Professional Fire Alarm Systems Contractors Near Detroit MI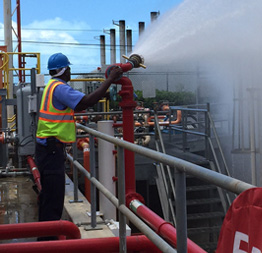 Since 1979 Jackson Associates, Inc. has continually grown into one of the leading fire alarm and suppression companies throughout Southeast Michigan. Protecting your property with a fire alarm system is necessary, and we make sure that all of our work meets the various requirements. But more importantly, we make sure that you and your property will be protected in the case that a fire does happen.
A team of in-house professional engineers and designers support our expertise in the areas of sprinklers, water mist, all types of clean agent systems, carbon dioxide, foam, dry chemical, flame detection, smoke detection and combustible gas detection. With this experience, we are able to provide value engineering by creatively evaluating and designing the system in order to avoid selling the customer more than they actually need. We provide these fire protection services to our industrial and commercial customers throughout North and South America, the Caribbean, Middle East, and Pacific Areas.
Our Core Values
Work Hard:
Demonstrate a good work ethic.
---
Honesty and Integrity:
Do what is right at all times.
---
Customer Service:
Give customers what is promised and create an atmosphere of mutual respect between Jackson and the customer.
---
Exhibit Professionalism:
Competence in your role.
Reliability and dependability.
Positive approach to work.
---
Fire Alarm Inspections & Testing in Detroit
NFPA requires fire protection inspections to prevent issues that can affect your system's integrity and ability to protect your business and your employees. Routine inspections and system maintenance ensures that your system will operate properly in the event of an emergency.
At Jackson Associates, Inc., we offer code compliant inspections of all fire and life-safety systems. Some of the services included are fire alarms, fire sprinklers, fire suppression systems, special hazards systems, and emergency notification and communications systems.
---
We provide complete design and installation services for a variety of water based and alarm/detection systems:
Automatic Sprinklers
Water Mist
High Speed Water
Spray
Deluge
Dry Pipe Sprinklers
Water Storage Tanks
Pre-Action
Monitoring; Smoke / Thermal
Air Sampling
Flame Detection
High Speed Optical Detection
Spark/Ember
Gas Monitoring ?
How does the fire alarm system design work?
Our design process starts in the pre-construction phase, where we rely on bid documents and specifications to develop the best approach to your unique system. Once we have established a plan, we then begin to lay out the fire protection piping and sprinklers throughout the project using the fire sprinkler design software, AutoSPRINK. With this software, we have the capability for full BIM (Building Information Modeling) coordination to ensure a better fit with other trade contractors at the site.
---
---
Customer Reviews:
"I have had the pleasure of working on several projects with Jackson and Associates at our plants in Sterling Heights. Beginning at design, Rick has been very helpful in providing technical guidance allowing us to lean down our installations without compromising on coverage, additionally; he has offered us good advice to help reduce cost with other contractors by educating us on the fire protection industry. The installation teams are courteous and understanding of our concerns in an active environment allowing for project completion with little to no impact on our production. Jackson and Associates have been able to provide competitive pricing and at least from our perspective have been able to beat the price of their peers. All said, they provide great value."

- Ed Cutlip, Maintenance Manager, Sterling Heights, MI
---
"For over 10 years, Datapak Services Corporation has trusted Jackson Associates for fire suppression and protection services for all of our facilities. We have relied on them to perform everything from inspections, upgrades to our current systems and new system installations. In addition to their line of standard services, their emergency services have always been reliable with immediate response times. I have personally worked with owner Rick Jackson and would recommend Jackson Associates to anyone without hesitation."

- Deck Mowatt, Director of Facilities, Datapak Services Corporation
---
Jackson Associates, Inc. can provide you with all of your fire alarm systems needs - from design all the way to installation. Contact us for more information on how we can help protect your property with our fire alarm services. We're available 24/7 for any emergency that may happen, so don't hesitate to contact us today!