Top-Rated Fire Suppression Systems Company Near Warren MI
Keep your business safe with Jackson Associates Inc.!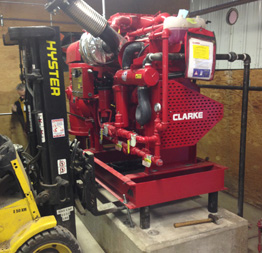 For over 35 years Jackson Associates, Inc. has been known throughout Southeast Michigan as one of the premier full service fire suppression companies. No matter if your business is in need of the design, manufacturing, or installation of a fire protection system - we can do it all at Jackson Associates. Our team has grown into a single source for businesses in need of fire suppression and sprinkler systems.
A team of in-house professional engineers and designers support our expertise in the areas of sprinklers, water mist, all types of clean agent systems, carbon dioxide, foam, dry chemical, flame detection, smoke detection and combustible gas detection. With this experience, we are able to provide value engineering by creatively evaluating and designing the system in order to avoid selling the customer more than they actually need. We provide these fire protection services to our industrial and commercial customers throughout North and South America, the Caribbean, Middle East, and Pacific Areas.
---
Fire Suppression Systems Throughout Warren
When it comes to your business and protection from fire, we know that you need the absolute best systems available. We work closely with general contractors, insurance carriers, business owners, local authorities, and architects to help create a fire suppression system and sprinkler system that's best for you! This helps to ensure that your project is approached from a valued engineering standpoint, and every possibility is thought of beforehand.
Trust the Team with Decades of Experience
The Jackson Associates team has thorough knowledge and understanding of fire protection and alarm systems, allowing us to provide you with the ideal solution for your property. Our team has decades of experience designing, fabricating, and installing complex fire systems, while always striving to meet even the strictest budgets and timelines. You can be assured that we will work efficiently, effectively, and with superior attention to detail.
We specialize in designing comprehensive solutions for complex environments.
We provide complete design and installation services for a variety of water based and alarm/detection systems:
Automatic Sprinklers
Water Mist
High Speed Water
Spray
Deluge
Dry Pipe Sprinklers
Water Storage Tanks
Pre-Action
Monitoring; Smoke / Thermal
Air Sampling
Flame Detection
High Speed Optical Detection
Spark/Ember
Gas Monitoring ?
---
Here are just a few satisfied customers who have protected their properties with Jackson Associates:
AGS Automotive
BladeRoom
Borg Warner
Brose
Cayman Power
DuPont
Federal Bureau of Investigation
Fortis Power (Turks & Caicos)
General Motors
Grupo Antolin
Iron Mountain
J. P. Morgan Chase
Kiekert
Les Moulins d'Haiti
Lockheed
Magna Automotive
Marathon Oil
McLaren Engine
McDonnell Douglas
Nexteer Automotive
Necker Island (Richard Branson)
Robert Bosch
Selfridge Air Base
Tribar
TRW
U. S. Army
U. S. Postal Service
Veterans Administration
---
See What Others Are Saying:
"One of the best compliments a supplier can receive from a customer like Jackson Associates is being paid in full. Underwood Fire Equipment has been supplying Jackson Associates with fire pumps, controls, valves and fittings for over two decades. The projects we have worked on together range from simple service calls to high risk jobs requiring fire pumps made of special materials of construction. Jackson Associates pays their suppliers on time, every time. The group is all very easy to work with. They are reliable, professional, and always punctual when we perform a site service with any of their team."

- Damon Pietraz, President, Underwood Fire Equipment
---
"I have just completed my 27th at Clark Construction and have been privileged to work around a lot of great contractors I would just have to say Jackson & Associates go above and beyond to give you quality on time work and workmanship."

- Ken Stephenson, Clark Construction Company
---
For all of your fire suppression systems needs. contact us today! We're available 24/7 for emergency services, there's always an expert on the line to help provide information on your next project. Proudly serving the greater Warren and Southeast Michigan areas.