Superior Sprinkler System Repair Contractor In Livonia MI
Jackson Associates, Inc. can help protect your business with fire sprinkler repairs & inspections!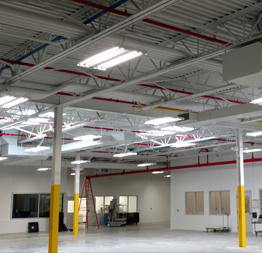 For over 35 years Jackson Associates, Inc. has been known throughout Southeast Michigan as one of the premier full service fire suppression companies. Without a proper inspection, your fire protection system or sprinkler system can cause failure. This is why we at Jackson Associates, Inc. specialize in a full compliant inspection for your building or property.
A team of in-house professional engineers and designers support our expertise in the areas of sprinklers, water mist, all types of clean agent systems, carbon dioxide, foam, dry chemical, flame detection, smoke detection and combustible gas detection
As part of our services group, Jackson Associates provides system inspections and testing that comply with local, state and national requirements. Through our communication and successful client service, Jackson Associates maintains a positive reputation in the fire suppression industry.
---
Fire Sprinkler Inspections & Repair Services in Livonia
NFPA requires fire protection inspections to prevent issues that can affect your system's integrity and ability to protect your business and your employees. Routine inspections and system maintenance ensures that your system will operate properly in the event of an emergency.
At Jackson Associates, Inc., we offer code compliant inspections of all fire and life-safety systems. Some of the services included are fire alarms, fire sprinklers, fire suppression systems, special hazards systems, and emergency notification and communications systems.
How often should you have your fire sprinkler system inspected?
Frequency is determined by the type of system you have and the requirements of the AHJ (Authority Having Jurisdiction). It is important to have your system inspected regularly to keep in compliance with the AHJ, or your insurance provider.
At Jackson Associates, Inc. we work closely with the AHJ as well as your insurance provider to ensure your system is compliant.
Commonly Overlooked Items
Some common areas of concern for our customers tend to occur when a space is being remodeled. Adding or removing walls may require some sprinklers to be relocated in order to ensure proper coverage. Also, beware when painting. Painted sprinklers can delay the response time of the water and any painted sprinklers must be replaced! Be aware that any unoccupied spaces in your building with fire sprinklers must be kept above 40 degrees F to ensure the water does not freeze inside the pipe. This can cause breaks in the system.
---
Here are a few of the most common inspections that we provide:
Water Based Systems:
Wet Pipe Fire Sprinkler System
Dry Pipe Fire Sprinkler System
Antifreeze Fire Sprinkler System
Water Mist
Deluge
Backflow Certification
Fire Pump Test
Special Hazard Systems:
Clean Agent (FM-200)
Gaseous Systems
Foam Systems
Fire Alarm Inspections
Fire Extinguisher Inspections
---
Testimonials:
"I have had the pleasure of working on several projects with Jackson and Associates at our plants in Sterling Heights. Beginning at design, Rick has been very helpful in providing technical guidance allowing us to lean down our installations without compromising on coverage, additionally; he has offered us good advice to help reduce cost with other contractors by educating us on the fire protection industry. The installation teams are courteous and understanding of our concerns in an active environment allowing for project completion with little to no impact on our production. Jackson and Associates have been able to provide competitive pricing and at least from our perspective have been able to beat the price of their peers. All said, they provide great value."

- Ed Cutlip, Maintenance Manager, Sterling Heights, MI
---
"For over 10 years, Datapak Services Corporation has trusted Jackson Associates for fire suppression and protection services for all of our facilities. We have relied on them to perform everything from inspections, upgrades to our current systems and new system installations. In addition to their line of standard services, their emergency services have always been reliable with immediate response times. I have personally worked with owner Rick Jackson and would recommend Jackson Associates to anyone without hesitation."

- Deck Mowatt, Director of Facilities, Datapak Services Corporation
---
If you need sprinkler system repair services, contact us today! Our team of experts are available to help you schedule an inspection, so you'll never have to worry about fires or other system failures. We're also available 24/7 for emergency services, and proudly serve the greater Livonia and Southeast Michigan areas.