Design and Installation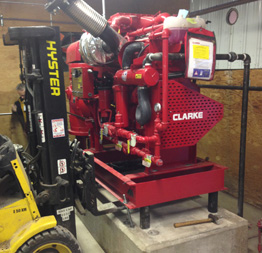 Jackson Associates, Inc. Offers Full Service Design for any and all Types of Projects.
We work closely with general contractors, building owners, insurance carriers, local authorities and architects to develop an efficient and complete design of our fire suppression and sprinkler systems. This ensures your project is approached from a value engineering standpoint.
---
How Does the Fire Protection System Design Process Work?
Our design process starts in the pre-construction phase, where we rely on bid documents and specifications to develop the best approach to your unique system. Once we have established a plan, we then begin to lay out the fire protection piping and sprinklers throughout the project using the fire sprinkler design software, AutoSPRINK. With this software we have the capability for full BIM (Building Information Modeling) coordination to ensure a better fit with other trade contractors at the site.
---
Trust the Team with Decades of Experience
The Jackson Associates team has thorough knowledge and understanding of fire protection and alarm systems, allowing us to provide you with the ideal solution for your property. Our team has decades of experience designing, fabricating, and installing complex fire systems, while always striving to meet even the strictest budgets and timelines. You can be assured that we will work efficiently, effectively, and with superior attention to detail.
We specialize in designing comprehensive solutions for complex environments.
We provide complete design and installation services for a variety of water based and alarm/detection systems:
Automatic Sprinklers
Water Mist
High Speed Water
Spray
Deluge
Dry Pipe Sprinklers
Water Storage Tanks
Pre-Action
Monitoring; Smoke / Thermal
Air Sampling
Flame Detection
High Speed Optical Detection
Spark/Ember
Gas Monitoring
We have experiencing designing and installing fire protection systems for a wide range of properties and facilities:
Automotive Production Plants
Food and Pharmaceuticals
Metal Fabrication Operations
Retail
Recreational Facilities
Government
Hospitals
Theater Complexes
Educational
Mausoleums and Churches
Manufacturing, Warehouses and Distribution Centers
Hotels, Condominium, Apartment Complexes
Power, Chemical and Petrochemical Plants
---
Contact us today or more information about fire suppression systems, to discuss your project, or to request a bid.