Service & Maintenance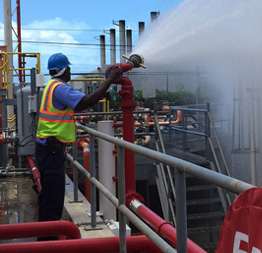 Keeping Your Fire Protection Systems in Good Order Requires Regular Maintenance and Repairs
Annual inspections are a good start in finding deficiencies. Repairing these deficiencies is the next step. Jackson Associates, Inc. has the knowledge and experience to provide these services at a competitive price.
At Jackson Associates, Inc. we offer 24/7 emergency repairs for all types of fire protection systems, as well as preventative maintenance service agreements, system monitoring, and replacement parts.
---
Commonly Overlooked Items
Some common areas of concern for our customers tend to occur when a space is being remodeled. Adding or removing walls may require some sprinklers to be relocated in order to ensure proper coverage. Also, beware when painting. Painted sprinklers can delay the response time of the water and any painted sprinklers must be replaced! Be aware that any unoccupied spaces in your building with fire sprinklers must be kept above 40 degrees F to ensure the water does not freeze inside the pipe. This can cause breaks in the system.
---
We're Available 24/7 for Emergency Service and Repairs
When the unexpected happens and emergency service is required, we are only a phone call away. Activated sprinklers, corroded sprinkler systems or even a small leak can cause great damage to the building or its contents if not handled in a timely manner. Our 24/7 availability can provide assurance that your situation will be handled by our professional service team at all hours.
---
At the first sign of leak or system failure, contact us to schedule an immediate repair to avoid putting your property risk. We're available 24/7 to take your call.